The Extreme Namib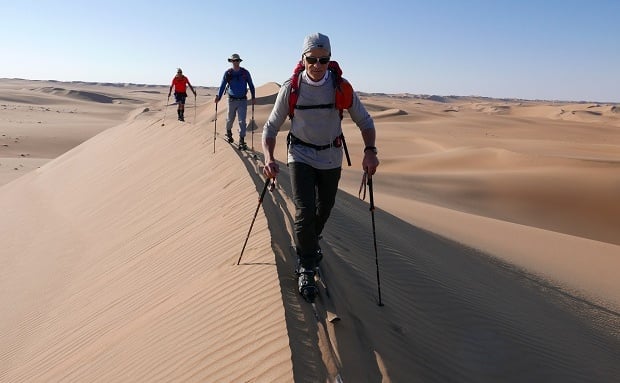 It is human nature to be on the lookout for something new, exciting or different to do. Something no one else has attempted before. The Namib is an excellent example of a destination that lends itself towards unique and amazing adventures.
Namibian adventures have evolved over time. Think about the adventurous and opportunistic diamond diggers who went to extremes in search of shining pebbles. They had the courage to negotiate the thick sand with ox-wagons, trucks fitted with Dakota aircraft tyres and even a bulldozer.
Then came the era of driving the dunes for fun with Sandmasters and Uri cars. Battling the dunes became addictive and a thrilling experience. In the meantime, owning a 4x4 vehicle came within reach of more people. Regulated guided 4x4 tours through the Namib became a bucket list item.
This is very exclusive, as only a set number of tours are allowed annually. Being part of a convoy of only 12 vehicles negotiating a route through dune straits and down slip faces is an experience that is life changing. Recently other adventure seekers have also challenged the Namib, but with completely different means and Live the Journey has facilitated these requests successfully.
Endurance runners have successfully completed a gruelling run from Lüderitz to Walvis Bay. A distance of 504 km of thick sand, unrelenting daily heat and only a camp bed to rest a tired body. With blisters on their feet and tired legs, they arrived 8,5 days later in Walvis Bay. A superhuman accomplishment.
If running is just a bar too high, gear down and consider hiking in the Namib… a Camino desert experience. Camping gear and luggage are transported with support vehicles so you will not carry a load. It will only be you, your thoughts and the silence of the desert. Get some friends together and tackle this challenge as a group. Distances and days can be tailor-made according to your needs.
Lately, Europeans do not want to pack away their snow skis after the winter. Groups of skiers, skiwalk the Namib. With snow skis fitted to their shoes and walking poles for assistance, they struggle to the top of a dune and then experience the amazing thrill as they ski down a slip face. Difficult to imagine, but it is really being done.
There are also those that would rather like to admire the Namib from the sky. These paragliders are transported to high dunes from where they then launch for an amazing view of the world's oldest desert.
Tired of road cycling or mountain biking? Why not pack your fat bike and come and test your endurance in the Namib?
Whatever your adventure… Live the Journey will make it happen.
Your extreme might only be a night in the middle of the desert, but you don't own a tent or a 4x4. Let us make this dream come true. The latest additions to the company fleet are two stretch passenger cruisers. Sit in comfort, experience the beauty of the desert and the thrill of dune driving without having to change a gear. We will drive you, set up a camp et voila your became a reality.
By Elsabeth Muller