Rain in the Namib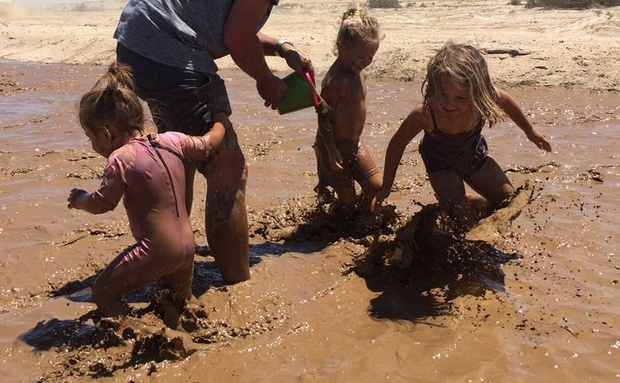 Having grown up in Norway I never really understood the importance of water since we have such an abundance of it. In fact, most of Norway's electricity is generated by hydroelectric plants and the tap water in Norway is probably the best in the world and most of it comes directly form the source without the need for processing or chemicals!
It was only since I moved to Swakopmund nearly three years ago with my husband and children that I realised how precious water really is. I knew Namibia was a dry country, but so was Jordan where we lived for almost eight years. Jordan though has its dry and desert areas, where only nomadic herders lived and the rest of the country received enough rain – and sometimes snow! – to survive. In Namibia, the situation was completely different, whereby it seems that most people not only live, but also try to farm in areas where there have been little or no rain over the last couple of years.
We visited different areas of Namibia over the past year and in several places the wild animals were on the verge of starving and many game farms and safari lodges were forced to feed their wild animals almost like cattle to avoid starvation. It was an amazing, yet sad sight for me to see giraffes, elephants and rhinos coming so close to the waterholes at the lodges because they knew it was feeding time. This of course put heavy burdens on the establishments as the animal feed is extremely expensive.
Thankfully Namibia has experienced heavy rains over the past month or so which was boosted by tropical storm Dineo. Most of the country has now received suitable levels of rainfall and the dams are slowly filling up as the water comes down the catchment areas.
The town of Swakopmund was abuzz with excitement last week as word spread that the Swakop river was going to flow. We were excited to see this magical flow of water, so we packed our 4x4 last week and ventured out to the Swakop river area north of the Rosmund Golf Club. Needless to say, every man and his dog (literally) was there!
And there it was, water running through that dry hot desert for the first time since 2011. The Swakop river, where the town of Swakopmund takes its name from, is a seasonal river, like most of the Namibian rivers, but the fact that this area hasn't seen any water in the last 6 years makes it more special.
People were setting up camp, braai fires were burning and the happiness and most noticeably, the relief on the people's faces was quite an amazing sight! The dogs were going crazy running in the water and the kids couldn't believe that we allowed them to jump in that muddy river so they made sure they enjoyed every minute. At times the river flowed so strong that we had to move further downstream, and several braai fires had to be moved hastily!
The water was running fast and we thought that the river might even reach the ocean but unfortunately, we will have to hang around in Namibia longer to experience that.
Seeing a river flow for the first time in a desert is not something that I ever thought about, however now that I have experienced it I truly believe it should be on everybody's bucket list. It is such an amazing sight and a humbling experience - what a privilege and yet again, just more proof of what a wonderful country Namibia is!
View video of this extraordinary event here.
Lao Tzu "Nothing is softer or more flexible than water, yet nothing can resist it."
Esma Al-Samarai is married to Hein Truter, the Managing Director of Live the Journey Namibia. They have been privileged to live in numerous foreign and unique countries, such as Mozambique, Taiwan, Jordan, Israel, Palestine and Vietnam. As seasoned world travellers, they finally found their peace in Namibia where they are raising their daughter Zara (5) and son Ryan (3).