The Sandbaggers Group Make History!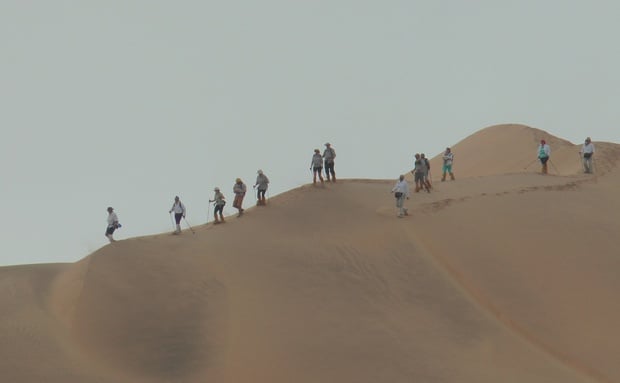 The Sandbaggers are expedition and event organisers from Scotland who specialise in providing top quality experiences in some of the world's remotest locations. Last month they undertook the first ever trek organise by Live the Journey from Walvis Bay through the Namib Desert - walking 160 kilometers in 5 days! Here they document their journey...
The last night before our adventure starts
Well I'm all packed, cannot believe that it is nearly time to go… I am really nervous, excited and apprehensive, I don't quite know what to expect. I spent yesterday ticking things off my list and making sure I that I have everything I need.


This trip has opened up a whole new world of shopping to me, I cannot believe that yesterday I walked past NEXT on route to Trespass! My best purchases yesterday were a beastie net for my head (very flattering) and a pair of super furry socks to wear during the night. 

I have checked the weather forecast for whilst we are out there and whilst the temperatures don't look to bad, it's the humidity that scares me...95%!!

This morning I had my final walk around Strathclyde Park, I looked at the ducks and wondered what the 'ducks' will be like in Namibia.
The weather this morning was breezy and cool, what a far cry from from the weather we are going to experience in the desert. On my way round I was still ticking things off my list in my head, I set my husband off to the supermarket to get me 3 bags of jelly babies and a bag of dried banana slices to eat at the end of the day to try and loosen my muscles.

My rucksack is packed and is so heavy I can hardly lift it, it's just as well that we are not carrying our luggage. Unusually for me, my bag isn't heavy due to the amount of clothes, instead it's all of the other things we need to take such as power gel sachets, first aid items (I may have gone a bit over board with this), protein bars, electrolyte tablets, pen knife etc. I have not packed a single pair of heels (for those that know me they will know this is completely unlike me) just flip flops and trekking boots, complete with parachute silk gaiters to stop the sand from getting in.

I've checked, checked and checked again, I've packed my passport, tickets and money, now with the prospect of a 6:15am flight from Edinburgh which means leaving for the airport at 3:30am, to meet everyone else taking part on the trek I need to try and relax. I don't think I will get much sleep tonight. Ellen and Kevin who are also taking part in the trek travelled up from East Midlands airport today, I wonder how they are feeling...
So the next time we blog we will be at Paris airport waiting for our flight to Johannesburg.
Wilma 
A day of passport dramas and Paris sight seeing
Wow, what a day it has been. Ellen and I travelled up to Edinburgh last night and this morning, at a ridiculously early hour of the morning, we met with everybody else at Edinburgh airport. All seemed to be going well until one of the people taking part realised she had brought her husband's passport with her and not hers! Cue the frantic flagging down of a taxi to take her home to pick up her passport and (hopefully) return her to the airport in time, luckily she managed it with literally 2 minutes to spare!
This isn't the only passport story to be told though, on Thursday just gone, Laura who is also taking part in the trek lost her passport, only to be told it would take at least a week for her to receive a replacement. Laura was devastated at the possibility that she wouldn't be able to take part so she got on to her local paper and MP, with a little help from both and pressure from herself somehow by Saturday she had a new passport, phew!
So, after a couple of hours on the plane this morning we landed in Paris, all looking very "Parisian chic" (not!) in our trek outfits. With a fair few hours to kill before our flight to Johannesburg some of us, myself included, decided to catch a sightseeing bus whilst the others went to La Louvre. A very enjoyable day but we are all absolutely exhausted after getting up so early this morning. 
Now as I write this we are sat waiting for the rest of the group before we head back to the airport to catch our flight to Johannesburg, when we land we then have an 8 hour wait before we fly to Windhoek. I'm sure a fair few of us will sleep through the flight and the stopover!
There's not much more to say about today so I'll leave it at that. We will keep you updated over the next couple of days hopefully there will be no more passport mishaps!!

If you think you'd like to donate to such a worthy cause, this is the best place to do so - http://bit.ly/1vIJx2q
A day spent at Johannesburg airport
Well, what can I say about today? We arrived at Johannesburg airport late this morning and here we have stayed all day. We have had almost 8 hours to fill waiting for our flight to Windhoek which departs early this evening.

We are all absolutely exhausted from so much travelling, but I'm sure it will not compare to how tired we will be once we start trekking. Most of us managed some sleep on the flight; unfortunately there is no photographic evidence of the incredible faces that were pulled mid nap.

There really isn't much else I can say about today, it has been a day filled with wandering around Johannesburg airport stopping intermittently for coffee. We fly later today across to Windhoek, it is quite a quick flight. When we arrive we will be picked up by the film crew, (yes you heard that right, a film crew!) who will take us to where we are staying tonight. We have one night in a hotel in Windhoek then we will drive to Walvis Bay, which is where our trek will kick off on Thursday.
So I will leave it there, hopefully there will be more to tell tomorrow.

Ellen 
A stunning drive to Walvis Bay
Today has been another day of travelling, but this time with some amazing scenery. We set off this morning from our hotel in Windhoek for Walvis Bay; it was about a four hour drive with the scenery changing dramatically throughout. Initially the landscape was quite baron, with just the odd tree or shrub and not a cloud in the sky (it was very hot!), but as we got closer to the coast the view was spectacular, beautiful sand and water and more clouds in the sky.

We spotted some interesting animals along the way including baboons, wild boar and camels, we even spotted some termite mounds which must have been 6ft tall. One thing that we saw that I wasn't expecting was a single track railway which ran parallel to the road.

We had a few stops along the way for coffee and snacks; this was an experience, at each stop there were people in small huts selling wooden souvenirs, lots of haggling commenced with a few successful purchases from various people. Also, would you believe it, but we had to pay for loo roll if we wanted to use the loos!
So we have checked in to hotel in Walvis Bay, we are here for just the one night before we start our trek in the morning. We are all keen to get started trekking tomorrow, but we have been told that we are going to be thrown in at the deep end with a very hard coastal trek, starting with a steep incline. I don't think it has quite sunk in yet what we have let ourselves in for.

We were told today that this is the first ever trek to be allowed in the Namib desert, it is the oldest desert in the world and took a year to get the permits to do the trek. Apparently the desert is a world heritage site so it is a real privilege being allowed to take part.

There have been no great mishaps today, apart from me forgetting the laces to my walking shoes, luckily I have managed to swap some from another pair of shoes! As I write this I am supposed to be packing my small bag which I will carry with me whilst trekking tomorrow, luckily my huge (and very heavy) bag will be driven to our first campsite.

We all seem to be gelling well as a team which is great, we might even manage to have some fun along the way.

I will sign off now, we are about to go for our safety briefing and then dinner before getting an early night ready to start the trek tomorrow.
Phew, they are safe and have walked 60miles!
So, after a few days of worry I have finally managed to hear from my colleagues who are taking part in the trek. I must admit I was worried that they had either been eaten by a wild animal or had blown away in a spectacular sandstorm, but, far less interestingly it would appear that the satellite phone and my mobile phone just don't get on. I today received three voicemails which they have left over the last couple of days updating me on their progress.

The trekkers have now been walking for 3 days, doing a minimum of 20 miles a day. They are all (understandably) absolutely shattered, it has been really hard work for them, they have covered some serious distance in just 3 days. They have walked an average of 46,000 steps each day and have been hitting their distance targets as a group each day which is great news, they are on track to cover 100 miles in 5 days. 
The first day was the hardest day, nothing like throwing them in at the deep end! They have seen some amazing wildlife during the days, including flamingos (Wilma is happy as they are a gorgeous shade of pink) and even dolphins. They have also been walking at some considerable heights so the views have been spectacular, it sounds as though they are all having a truly amazing time and are so determined to concur the trek to earn the sponsorship money that they have all raised for such a fantastic cause.

Apparently it has been incredibly windy each day but still very hot. At one point they walked along a stretch of ridges with quite severe drops in the wind, lets just say they were relieved to have their walking poles with them!

During the evening the temperature drops quite severely and it is very cold, they are all extremely happy to have packed some fluffy socks. Evenings are spent cooking dinner (tonight they had beef stroganoff) and sitting around the campfire chatting, before getting early nights before another day of trekking kicks off.
They are literally camping each night in the middle of nowhere, all they can see before the sun goes down is sand and at night the sky remains very clear with beautiful stars lighting up the dunes.

There have been no great mishaps as yet, the team seem to be getting on well and all pulling each other through. Lots of blisters have developed and obviously there are some very tired feet.

Tonight's message came as they sat around the campfire having walked an amazing 45km which is more than a marathon, that is an incredible achievement!

So, with a bit of luck I will get to speak to the team tomorrow and find out how they have gotten on.

Sarah
Day four – DONE
The trekkers have come to the end of their fourth day, there is just one more day of walking to go. Today they covered 30km (18 miles), unfortunately I can't report back on how many steps were done as Wilma managed to slam her pedometer not once, but twice in the jeep door! Once again they witnessed some amazing scenery and saw some interesting animals, including jackals (lets hope they didn't get too close to them, I've heard they can be vicious!)

When they woke this morning, it was very foggy, the fog didn't lift until about 11am but then it became very hot, there are some red foreheads around, I'm also looking forward to seeing the panda eyes when Wilma, Kevin and Ellen are back from them wearing their sunglasses throughout the whole trek.


The team were driven out to their starting point today in jeeps across the dunes, apparently Wilma screamed like a pig the whole way!
I bet the rest of the walkers wondered what had made it's way into the jeep...

Last night after dinner they sat around the campfire and had a rave complete with glow sticks! The sky was so clear that they could see thousands of stars, an amazing site I'm sure.

There are obviously some quite sore feet, people are hobbling around but they are all managing to sleep, even with about a foot of sand in the tents. Apparently there is just as much sand in each tent as there is on the tents.

The food has been pretty good throughout, Wilma was impressed with the fact that at each meal there are even table cloths, sounds like they are managing some comforts whilst in the middle of nowhere. The logisitics of the trek have been organised by a company called Sand Baggers (I'll leave a link to their website below), it sounds as though they have done an amazing job, they seem to be really trying to make the trek as enjoyable as it can be for the team. There is even a shower which is powered by the jeep, no hair straighteners though so I'm sure there are some interesting hair styles being rocked.

When I spoke to Wilma today she seemed so excited, she couldn't stop talking about how much of a fantastic experience this hike has been, and that she has made some friends for life. Although the three Source BioScience people knew each other before the trek, nobody else knew each other, they have all come together to raise money for a fantastic and worthwhile cause. They are really pulling together as a team, when one person is struggling they all rally round to help them to carry on.

I think I speak for everyone following this blog when I say that I'm in awe of what they have achieved so far, not only have they raised a phenomenal amount of money for such a worthwhile cause, they have also walked an incredible 80miles in just 4 days. This is an achievement in itself, but throw in the heat, humidity and the fact that they are walking up and down sand dunes, as well as being away from home and sleeping in tents that makes for the most fantastic achievement.

They have just one more day to go, tomorrow they will cover their final 20miles trekking back to where they started in Walvis Bay. They will then have one night in a hotel, with a celebratory meal and presentation of certificates before starting the very long journey home, they will finally be home on Thursday morning.

So I will leave it at that, I will once again be speaking to the Source BioScience three tomorrow, I'm sure they will be absolutely extactic to have completed the trek!

Sand Baggers - http://www.sand-baggers.com/
WE DID IT!!!
Well we have finally completed the trek, it has been an incredible journey and experience. The desert was truly amazing to which words cannot do justice. The dunes were massive and kept changing as the wind moved the
sand which the most fantastic noise. We have walked 100 miles in just 5 days, wow!

Last night in the camp was incredible, we sat around the fire eating the most amazing steaks that
were cooked on the open fire sipping tea and singing under the milky  way and stars. 

We started our last day early this morning by packing up our camp and trying to fit all of our sand filled clothes into our bags before having breakfast  and heading across the dunes before dropping down onto the beach to
finish our last 15 miles.
Everyone was pushed to their limit to make sure they completed it, I can tell you that the end was very motional
for us as we hugged each other at the end.

We arrived at the hotel looking like someone who had spent the last 5 days in the desert, each person smellier than the other. We were embarrassed going into the hotel and leaving piles of sand behind us and I can tell you that after 5 days of sweating and being covered in sand the shower when I go to my room was the best shower in the world!

Every single person on this trip gave every ounce of energy and commitment to completing the trek in memory of Michelle Henderson. A fantastic group of people who laughed, cried and helped each other through, sharing sweets, painkillers, plasters, biscuits, suntan lotion and electrolyte tablets. 
Special thanks to the guys who cooked for us during our days in the desert - Len, Jack and Luciano, they were absolutely fantastic, the food was 100% better than my cooking, and they did it  in the desert!

Tomorrow we start the long journey home, this has been an experience of a lifetime, the journey home will provide time to reflect and contemplate. We land back in Edinburgh on Thursday morning.

I will try and blog tomorrow, but no promises as I'm sure the aches and pains will have kicked in with a vengeance by then. If I don't get chance to blog, there has been a professional camera crew following us around, so at some point there will be lots and lots of photos and even video footage to share! (very very tired) Wilma 
Our final blog
So we thought we would approach our final blog in a slightly different way, instead of just one of us writing it we have all written this together…

Our amazing trip and once in a lifetime opportunity is now complete and we are all now recovered and back to 'normal life', if normal is the correct word to use after our adventure in the Namib desert. It was the most amazing experience, it will certainly be something that we will never forget long after the blisters have healed and our ankles no longer resemble those of elephants. We all have our own special moments that either made us laugh (which there was a lot of) or made us look in complete horror and disbelief that we were expected to climb that massive sand dune on the first day (we are too polite to tell you our exact words)!


The first day was definitely the hardest day, a real baptism of fire, but for most of us it was actually the most enjoyable.
The gale force wind while trying to negotiate the dune edge with the sea on one side and the valley of the dune on the other was truly scary but determination to get to the top over took the fear of falling down either side. There were a lot of broken people round the fire that evening; we were all in a semi-state of shock, amazed by what we had seen and achieved, physically drained, and more than a little apprehensive over what was still to come.

Vanity went out the window even by the first night, our faces were covered with sand which you only succeeded in moving from one side of your face to the other with baby wipes, we got used to it though as there was absolutely no escaping the sand! Some of the men succeeded in looking better than the women, but they shall not be named…only the smell of a particular aftershave gave the game away…

The views from the top of the sand dunes were incredible, you felt like you were standing on top of the world in the most serene place ever. We will never forget the way the dunes looked late in the day when the sun had started to set, it was amazing, during that time you can really see the dimensions, it's easier to see each individual dune and get an idea of the scale of the desert.
The sound of the sand singing was incredible as well, at first you think that a car is approaching, but then you realise (or get told) that it is the wind between the dunes making the sound. It is like a low rumbling, but unlike anything we had ever heard before.

The wildlife that we saw whilst trekking was awesome, seeing hundreds of seals lying on the beach or taking off through the waves was the best, with lines of hungry jackals waiting to pick them off for dinner. One of the most memorable moments for all of us was was when we were walking along the sand bank and we came across what we thought was a dead seal pup, as we walked over to it it suddenly looked up at us with the most stunned expression on its wee face and started to run to the sea, falling over its flippers while still looking back at us, it would have been a fantastic picture if one of us could have stopped laughing to take one. Poor little thing had clearly never seen a human before.

Driving through the desert in the jeeps was a totally amazing experience, especially perched on the top of the ridge looking at the drop below and trying not to scream while holding on to your seat as you bounced up and down.
Wilma went from screaming with her eyes shut to asking to go faster and find bigger sand dunes!

Night time round the campfire was just the best, sipping coffee toasting your sore feet and trying to get up without every one of your bones creaking, or trying to get closer to the fire than Willie was. The food and the company was just fantastic, sitting in the most amazing 'beach' in the world under the milky way with the dunes all around and the sound of the sea in the distance. Maybe this sounds soppy but you had to be there to experience it, especially on the last night when we had the best steaks ever cooked on the barbecue… Kevin did not need to wash his tray, there was not a morsel left on it.

The end of the trek was somewhat bittersweet: crossing the line, the group linked arm in arm, spearheaded only by the indomitable Willie, all singing our adapted version of the Proclaimers, I'm Gonna Be (100 Miles)... what else for a bunch of Scots (real and honorary)?  There was a great sense of achievement and happiness but also the sense that we didn't want it to end... I (Kevin), for one, would have happily signed up for another 100 miles there and then!
Once we got back to civilisation we had a bit of a party, we had a fantastic evening, letting our newly washed hair down, all of a sudden our feet forgot all the aches and pains and there was plenty of dancing and singing… special thanks to Christine and Laura for leading on this, Johnny for showing us his dancing technique, Jacques for his hospitality and harmonica skills, Brian for his jamming on the guitar and vocals and to everyone else for such fun.

The trip back to Windhoek was much quieter than the trip down as the majority of us slept during the 4 hour trip, everyone was either too tired to talk or just thinking about what we had just done.

30 hours later we were home….

If you ever get the opportunity to do something like this then grab it, you will create amazing memories, find that you are much more resilient thank you think, be completely out of your comfort zone, feel dead chuffed with yourself on what you have achieved and the fact that others will benefit from it, and you get to meet the most amazing bunch of people who  were strangers to you before the trip, well that just makes it even better!
The most incredible thing though was the privilege of it all - there are very few unspoilt, wild places left in this world, and Namibia seem to do a wonderful job of preserving and protecting this area of outstanding beauty, to the point that parts of it remain untouched and inexperienced, except by the lucky few. And the symbolism of it all should not be lost: we were, very literally, breaking new ground, making footsteps in dunes where nobody else alive had stepped, all for the purpose of raising funds and awareness for Michelle's trust, aiming to break new ground in a very different way - to unlock a cure for cervical cancer.

Thanks go to Sandbaggers, Jurgen and his team Jaques Luciano and Len for looking after us so well and ensuring we were not eaten by lions. (A wee joke for Alan!!)  And Brian and Johnny for taking the most amazing pictures that we have to remember the trip

One thing we also must say is that nominations for the Scottish Adventure Awards closes on Friday 31st October, please please nominate the Michelle Henderson Cervical Cancer Trust for the Charity award and Together for Michelle for the Team of the Year award, the link is below

http://www.scottishadventureawards.com/categories/

Also, credit for all of the photos goes to Johnny Graham, Digitalpict Photography - http://www.digitalpict.com/