The Australian Outback – You will never ever know if you never ever go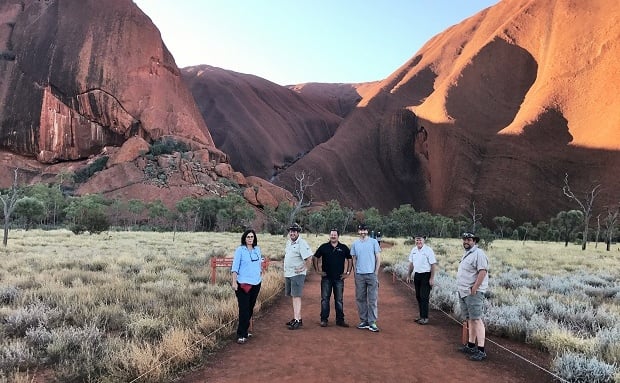 When I hear the words "Australian Outback" images of Crocodile Dundee calling "G'day mate!" while killing a crocodile with his bare hands, howling dingo's, Uluru, Aborigines, open spaces and kangaroo's jumping around, comes to mind. I soon realised it was much, much more - the Outback embodies the history of spirited adventurers who endured hardship and difficulties to explore a terrain that had no mercy for the fool who imagined that he could tame the land.
As we drove away from Alice Springs, we repeatedly drove past two road signs – a yellow one to warn you to be on the lookout for jumping kangaroo's (which was actually more exciting than scary, as I really, really wanted to see an actual kangaroo) and a red sign stating: "CAUTION: Remote Travel Area, proceed either with a Satellite Phone or HF Radio."
It was only then that I came to realise that we were about to embark on an expedition where the words "remote and vast" have a complete new meaning. Just to give you an idea - most people would think that driving from Cape Town to Windhoek (1,500 km) in Namibia is quite far. The Outback is so big, that if you drive from Alice Springs (which is more or less in the middle of Australia and the biggest town in the Outback) you will drive 3,000 kilometres to reach Perth on the Western Coast, 3,000 kilometres to reach Brisbane on the East Coast, 2,500 kilometres to reach Darwin up on the North Coast and 2,500 kilometres to get to Adelaide on the South Coast. It is mind boggling!
What will I remember? Besides the remoteness and freedom of stopping any place, anywhere to make your camp for the night, hearing the dingo's cry and seeing millions of stars from another angle, I will remember the so called Road Trains, the behemoth trucks transporting livestock throughout the Outback. Farms in the Outback can be up to 400,000 hectares in size. Imagine being the owner of 15,000 heads of cattle…
I will always remember Uluru (Ayers Rock), rising more than 300 metres above the surrounding desert with a circumference greater than 8 kilometres. Uluru, meaning "mother of the earth" – a most sacred place for the local Aborigines. This is also where I met René, a gentle soul with a heart full of memories of how her people once lived as the great custodians of the Outback. I did not have words when we stood there – I felt overwhelmed and awe-struck. I left Uluru with a feeling of total wonder.
We stopped at small towns, some with a mere 40 inhabitants. We soon realised that the pub or hotel was the best place to meet locals, as every living being gathers there in the evening for a "bite and a pint". Mt Dare's one and only pub/ hotel has a notice board in the window warning "Last Pub for 340 km". William Creek Hotel has a post sign reading "In the middle of somewhere". Crossing the Simpson Desert, you arrive at the famous "Pink Roadhouse" in Oodnadatta. Coober Pedy, where all the houses are underground, because it is too hot – also the town where the best gem quality opal in the world is mined. I always imagined that the small towns of the Outback would consist of a lonesome hotel with one gravel road coming from who knows where and going to who knows where – well, I was not disappointed, it looks exactly like that! I loved everything about it. About 500 kilometres out of Alice Springs, we turned onto a road that said "4WD recommended". In the middle of nowhere, a tree-lined spring appeared, it was Dalhousie Springs. It was like something from another world – a crystal clear, natural hot spring. Floating in the water, all I could hear was the sound of the birds…
Out of all the extraordinary experiences, the thing that I will remember best, are the people. Australians are big-hearted, like their continent. Understanding them is another story altogether. They speak a most unique English. Pretend to be very tired when you speak and you will sound like a native Australian in no time!
Crikey! the Outback was "heaps good", as they would say. You will never ever know if you never ever go...
- By Karien Schoeman