Hike the Namib100 with Erns Grundling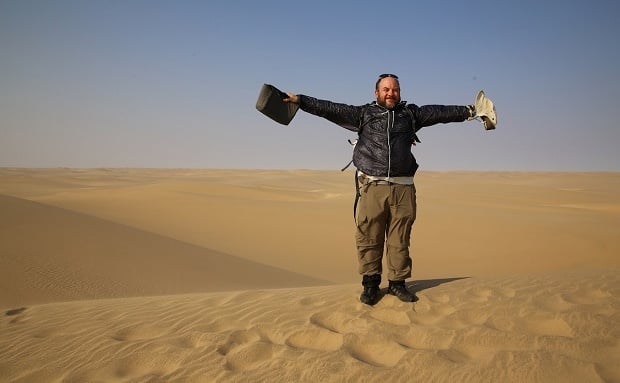 "The Namib100 reminds of iconic hikes like the Camino de Santiago and the Kumano Kodo in Japan.  Breath-taking and diverse landscapes, excellent food and customer service by the Live the Journey team, and above all silence, silence, silence… A much-needed break from all the demands of modern life and digital technology. Pure bliss!" - Erns Grundling, author and TV presenter
The exclusive Namib100 Hike is the is the latest addition to the Live the Journey Namib Desert experience portfolio. In September 2019 Live the Journey invited experienced hikers, key role players in the hiking sector as well as journalists to join a recce of the route.
Renowned journalist, author and TV presenter, Erns Grundling, was part of this first group ever to walk this concession area in the Namib Desert and called it an incomparable, world-class slackpacking experience in the Namib desert.
We are excited to announce that Erns will be the tour leader on several of the Namib100 Hikes for 2021.
The Namib100 is not your average run-of-the-mill hike, but rather in a bucket-list league of its own with the likes of Kilimanjaro, the Grand Canyon and the Camino de Santiago. This fully-catered, fully-supported five-day hike in the oldest desert on earth, will overwhelm you with a sense of total freedom and inspiration. It's an area that answers to names like the Forbidden Land, Sperrgebiet and Skeleton Coast, where numerous shipwrecks stand witness to the power of nature over man.
This is a Live the Journey 'exclusive' hike, which means that as a concession holder, we have exclusive rights to host a limited number of hikes in the Namib Desert concession. The 100 km five-day hike originates a few kilometres outside of Walvis Bay and ends at the wreck of the famous Eduard Bohlen, which was stranded in 1909. 
Erns Grundling is a passionate traveller and hiker and has extensive experience of multi-day hikes and pilgrimages. His love for people and stories makes him an excellent travelling companion and speaker.
He worked as a journalist at Die Burger, LitNet, Insig magazine and Weg. During this time, he received twelve national awards for his journalism. His first book, Elders, about his Camino pilgrimage in Spain, was published in 2017 and is a bestseller. In 2019 an English translation, Walk It Off, was published. He was co-presenter of the TV series Weg Agterpaaie on Via and is currently presenter and co-producer of the SAFTA-winning travel series Elders on kykNET and Showmax, now in its third season.
With Erns as tour leader, guests can look forward to entertaining evenings spent around the campfire, as he shares his hiking stories and read from his travel books.
He has travelled far and wide. He has a keen interest in psychology, philosophy, mindfulness, the inner journey and purposeful travel. His presence on a tour is sure to enrich, entertain and keep things interesting.
Contact us for more information or to book. Space is limited on these special departures.