Elsabeth shares her travel memories of India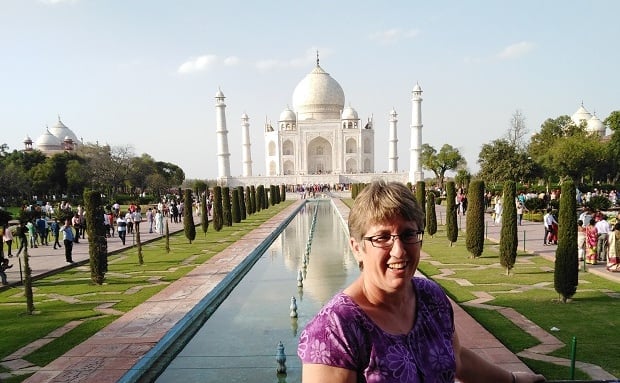 When asked: "What is your favourite travel destination?" Someone once answered: "The last destination I visited". This is also Head of the Outbound Department, Elsabeth Muller's, sentiment after returning from INDIA recently.
Every day in India is like opening a magic box full of colours, flavours, aroma, history, architecture, chaos and lots of honking. I was looking forward to each day and carefully packed away the memories of previous days so that I can clearly recall them when I reflect back.
New Delhi is beautiful with colourful flowering gardens; the Amber Fort in Jaipur is an impressive maze of courtyards and marble mosaics; Keoladeo Ghana National Park offered a wonderful bird-watching experience and I am not even a bird-watcher; the sunset over the Betwa River in Orchha was truly a postcard moment and then nothing can prepare you for Varanasi on the Ganges River. No photo, YouTube clip or guide book can capture the overwhelming melting pot of colour, chaos and spirituality in Varanasi.

What was your most memorable moment on this trip?

India is synonymous with the Taj Mahal and in real life it is even more beautiful than any photo of the Taj that I have seen. At first glimpse I was standing with a dropped jaw, taking millions of pictures with my eyes. One of the group members brought me back to reality when she asked: "Elsabeth, must I take a photo of you?"
Also, no one ever tells you that the Taj is flanked by a red mosque and guest pavilion equally beautiful. Across the Yamuna River on a huge open field young people are playing cricket, the future MS Dhoni's and Tendulkar's of India. I don't think they realise what an amazing backdrop they have. The Taj is a must visit, but India is a fascinating country that will surprise you with more wonders than just the Taj Mahal.
Do you have any insider tips for anyone wanting to visit India?

Don't be afraid to use the local transport in cities when you have free time. A ride in a rickshaw-bicycle allowed us to take in the narrow streets of Old Delhi, for longer distances the tuk-tuks are comfortable and they even allow you to engage in a short chat with locals at traffic lights or in peak traffic – that is how close they travel to each other.

The train trip from Agra to Orchha was such a surprise. People tend to have a picture of over-crowded trains with people on the roofs when they think of Indian rail transport. On an express train you are allocated a seat and a coach number, each coach has a nice bathroom and you also get a tray with snacks, juice and tea – just like on a flight.
Always have a scarf in your day pack – you sometimes need it when you entre a mosque, otherwise you need to use the one that is provided.
In India there is lots to buy and you can bargain: Jaipur for carpets and jewellery with semi-precious stones, Agra for marble inlay articles, Varanasi for silk, and for local Indian tea and spices you visit a supermarket to buy the real stuff locals use.