Botswana in the Green Season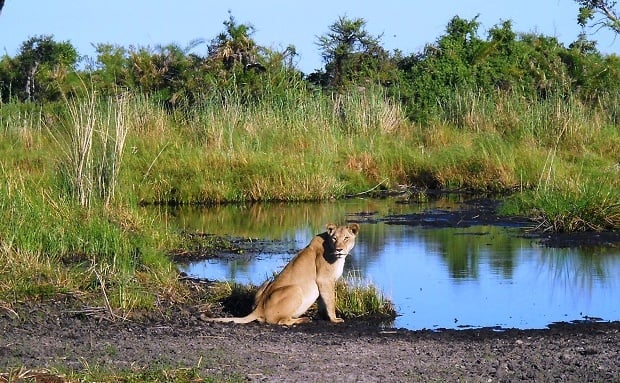 The question of whether to go to Botswana in the green season (November to March) or dry season (April to October) is one that we are often asked. The general view is that game viewing is much better in the dry winter season when it is cooler and vegetation is sparse so it's easier to find the wildlife, and the wildlife has to congregate near permanent water sources so again this makes them easier to find.
Whilst this is not wrong, there are many reasons to consider travelling to Botswana in the green season. Price is one of them. Botswana is one of the more expensive African destinations due its far-flung lodges and the priority on low-impact tourism. However, In the green season between mid-November and mid-March, lodges try to encourage more visitors by dropping their prices, sometimes by up to 30%, and frequently dropping single supplements totally. You can therefore get some great deals in the green season and spoil yourself to one of the most spectacular times of year to be visiting this vast, game-rich country. There are also fewer travellers, therefore you'll be in for a much more exclusive experience.
Besides outstanding value, sightings of newborns and by default an increase in predator activity is a great lure to travel during this time. In summer, there's an explosion of new life as many species give birth to their young, making for many enjoyable moments as you watch the amusing and endearing antics of the young learning about life in the wild. This is particularly enjoyable in an area like the Central Kalahari which is at its wildlife viewing peak in the green season. This normally parched area with wide-open vistas welcomes the rain and the desert is utterly transformed.
The green season also sees the start of the annual zebra migration. Thousands of zebra will move through Botswana's Makgadikgadi and Nxai Pan National Parks. It's the second largest migration of wildlife in Africa. Predators such as lion and leopard follow closely behind, hoping to make the most of this abundance.
Birders will delight in exceptional bird watching with a steady stream of migrant birds arriving from all over the world. Botswana has a brilliant range of resident species but as the rains arrive, so do migrant birds from Europe, Asia and other parts of Africa. Botswana's bird watching goes from superb to astounding and even non-birders will be astonished at the array of colour and song gracing the skies of the Kalahari, Savute, the Okavango Delta, the Chobe River and Linyanti wetlands.
Lastly, but by no means least, it is the absolute ideal time for photography. This is not called the "emerald" season for nothing. During Botswana's summer months there are vivid colours all around. The normally pale blue Botswana sky seems somehow brighter, the light sharper. Add to that incredible cloud formations and brilliant sunsets and it is sure to be a photographer's dream.
If you are prepared to endure the higher summer temperatures and typical afternoon thundershowers, then Botswana's green season promises a truly magical experience of colour and abundance.