Annemarie ervaar die Faces of the Namib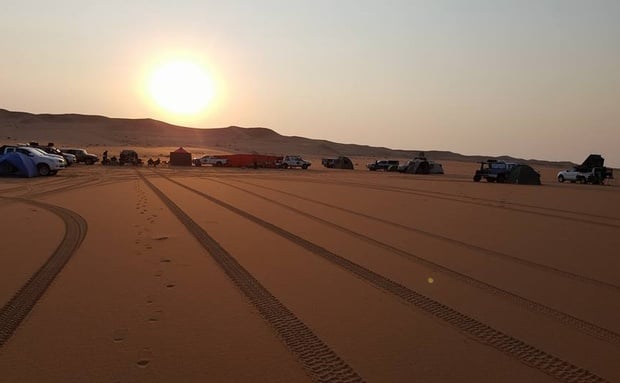 "A picture speaks a thousand words". Dit is waar. Totdat jy in die Namib staan. Hier kan 'n foto nie beskryf hoe ongelooflik mooi die woestyn is nie. So mooi dat dit jou op jou knieë bring in verwondering.
Annemarie Olivier, 'n Live the Journey konsultant, het onlangs een van ons Faces of the Namib woestyntoere meegemaak. Sy deel haar ervaring met ons.
Hierdie was my eerste ondervinding in die duine en die gogga het behoorlik gebyt. Letterlik en figuurlik! Daar was stories oor die legende van die Makieriebok, marshmallows oor die kampvuur gebraai en selfs 'n bakkie wat besluit het om te vlieg in plaas van ry. Daar was gelag, koud gekry en kompetisie gehou oor wie die vinnigste deur 'n "speelgaatjie" kon jaag. 'n Onvergeetlike ervaring wat ek vir altyd sal koester. 
Die verandering in die landskap van vlaktes na grys rots, na 'n rivierbed en uiteindelik die duine, is iets om te aanskou. Waarlik al die verkillende gesigte van die Namib.
Ons gidse kwyt hulle baie goed van hul taak en verseker dat almal veilig begelei word deur die duine en later met vol magies gaan slaap, ná 'n heerlike kuier om die kampvuur.
Hierdie is beslis 'n toer wat op almal se wenslysie moet wees.