5 Reasons to look forward to our Tanzania Migration Safari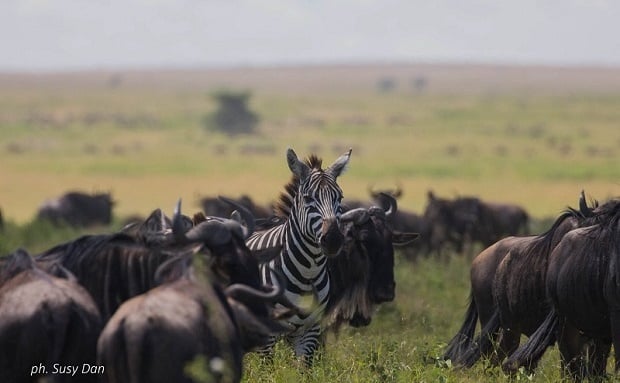 Each year in May, we treat our guests to a life-changing journey to Tanzania's Serengeti National Park to view the astounding natural spectacle that is the Great Wildebeest Migration. Besides encountering thousands of wildebeest, zebras and gazelle, there are a number of other reasons you should look forward to this incredible experience.
Here are our top 5 reasons:
1. Safari dreams come true
Besides the boundless plains of the Serengeti, you will also visit the Lake Manyara National Park and the Ngorongoro Conservation Area. With over a thousand species of birds and more than 450 mammal species, Tanzania truly is a nature lover's paradise. To make the most of your safari, guests are treated to a guaranteed window-seat in specially adapted 4x4 vehicles with pop-up roofs – perfect for game-viewing and photography. Our group is limited to only 12 guests and safari guides share their knowledge with pride and passion.
2. A predator's paradise
The Great Migration is the largest overland migration in the world with animals travelling 800 km or more during each annual cycle. It involves over two million wildebeest and zebras, and of course, an astounding array of predators in hot pursuit! While sometimes brutal, it is a natural spectacle as old as time.
3. Meeting the Maasai
The Maasai is an intriguing people with a culture dating back hundreds of years. They lead a semi-nomadic life along the edges of the many game parks of the Great African Lakes and their cattle is their greatest pride. With their distinctive customs and colourful dress, it is fascinating to see how they thrive in these wild landscapes.
4. Tree-climbing lions
Whether it is to get a better view, catch a bit of the cooling breeze or to escape flying insects at ground level, no-one is entirely sure why these lions adapted to this behaviour. One thing is certain, this unusual sight is one of the highlights of a Tanzanian safari.
5. A room with a view
The accommodation throughout your safari offers a luxury retreat after a day filled with adventures. A highlight of the tour is undoubtedly the luxury tented safari camp in the Serengeti National Park. Waking up to a view over the endless grasslands is a true "Out-of-Africa" experience.
The annual movement of wildebeest and other grazing herbivores – the Great Migration – is one of the ultimate spectacles in the natural world. Join us as we discover the natural wonders of the Serengeti, Ngorongoro Crater and Lake Manyara.
CLICK HERE for more information