Stella shares her travel memories of Iceland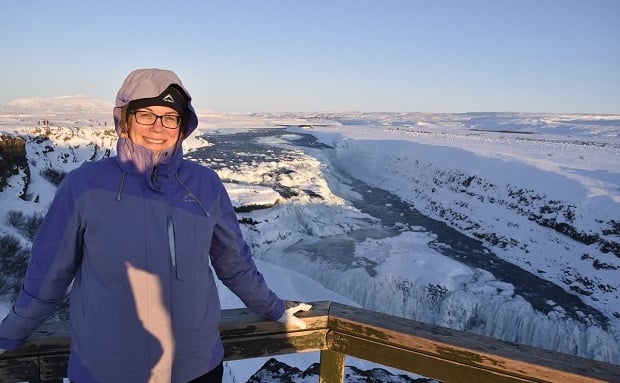 I fell in love with Iceland the first time I laid eyes on it. We had been flying over the ocean for three hours when through the window of the plane, I spotted land and it was pink.
At first, I thought that the fatigue of our 18-hour journey from sweltering South Africa, travelling half-way across the globe, had finally taken its toll. It seemed so strange. How can land be pink? But then I realised that what I had been looking at was the rosy hues of the setting sun, shimmering across the snow-covered island. It was a serene sight, almost dreamy, and completely unexpected. As our plane touched down on the tarmac, I could see the excitement on my group's faces. For many of them this was the moment a bucket-list dream, finally became reality. But as we stepped off the plane into minus 10-degree weather, the fierce wind lashing icy air into our faces, I could almost see their minds change. "Oh dear! What have we gotten ourselves into?". If only we had known that this surreal moment truly captured the essence of Iceland… it does not enjoy a reputation as being a land of contrasts for nothing!
What was your most memorable moment on this trip?
Despite the freezing winter temperatures, this land, and the sky above it, is enchanting.
Dusted in snow, its natural beauty, without fail, surprises even the most seasoned of travellers. I vividly remember feeling almost constantly in awe. Every day we would see and experience something new and wonderful. Saying that the scenery is diverse and contradictory, is an understatement. It changes with every turn in the road. We saw gigantic waterfalls, steaming geysers exploding into the icy air, ghostly lava fields and volcanoes with unpronounceable names that punctuate the stark landscape.
Our visit to a natural ice cave was a definite highlight. The otherworldly beauty of layer upon layer of ice, pressed together by the forces of time and nature is unforgettable. Then there was the Black Diamond Beach at Jökulsárlón.This black volcanic sand beach takes its name from the hundreds of glittering icebergs scattered along the shore. Large blocks of ice break off from the nearby glacier falling into the lagoon. From here it flows down a short river into the Atlantic Ocean, where the chunks are broken into smaller pieces and wash up onto the beach transforming it into something magical.
Few sights are as breath-taking as the aurora borealis. It is hard to describe but they really do seem to dance across the sky and while it is normal to see them in green and white, on my second visit to Iceland we also saw the palest of reds and purple flittering across the clear night sky.
Do you have any insider tips for anyone wanting to visit Iceland?
Iceland's tap water is some of the purest on earth, so there is no need to buy water. Bring a re-usable water bottle.
Once you find the elusive aurora borealis, capturing decent photos of it is a whole new challenge. Take some time beforehand to familiarise yourself with your camera's manual settings so that you don't have to fumble around in the dark and cold when the magical lights appear. A tripod is a must.
Pack your winter coat and your summer pyjamas! I know it's a cliché but layers really do work best in Iceland's winter. You will need a water- and windproof jacket, gloves, scarf, beanie and waterproof boots. Having said that, while it is extremely cold outside, all buildings are centrally heated. I found the temperature in hotel rooms almost balmy, so be sure to pack some lighter clothing too.