Rwanda - Live the Journey's Flagship Journey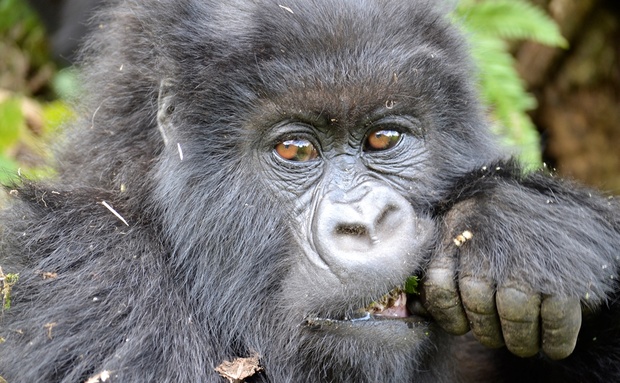 Considering all the rare and endangered animals on earth, the spectacular Mountain Gorilla must rank, possibly with the panda, as the ultimate symbol of just how fragile our planet has become.  Once much more common than today, the world's remaining population, not numbering more than 850 individuals, can be seem mainly in two safe locations; one in Bwindi National Park in Uganda, the other in the Virunga National Park in Rwanda.  It is here that Live the Journey conducts, to my mind, one of its jewel tours.
Needless to say, the face-to-face meeting with this remarkable primate, in a rain forest of majestic proportions, is the high point of this tour.  You are guided through a jungle of majestic trees, fire ants, stinging nettles and exuberant climbing plants to the presence of an entire family group of gorillas, and for a magic hour, you literally enter their secretive lives.  Every time I am surprised anew, not only at the great privilege to see them, but also by the sudden and unexpected reaction of our guests.  Tears flow freely on these trips – tears of wonder tears of gratitude for being witness to such beauty.
But Rwanda is more, much more than gorillas.  We start out tour in the east of the country in Ruzizi Tented Camp on the shores of Lake Ihema.  Of all the tourist camps in the world, Ruzizi is my all-time favourite and every year we are asked, desperately, if we can stay longer.  Plentiful birds, topi, Bohor's Reedbuck and Maasai Giraffe make this a magnet for tourists who have already seen the Big 5. 
After two days spent with the Mountain Gorillas and Golden Monkeys of the Virunga National Park, we end this tour on the shores of Lake Kivu, in a hotel that has no competition in Africa when it comes to location, food end service.  Our tour to Rwanda is short, but when it comes to money for value in terms of maximum exposure to the glory of the tropics, it has no competition whatsoever.  Sandwiched between two breathtaking lakes, Rwanda will haunt your dreams forever.
- By Dave Pepler
Join Dave Pepler on tour to Rwanda from 22 - 28 May 2016. Read More