A Rwandaful Experience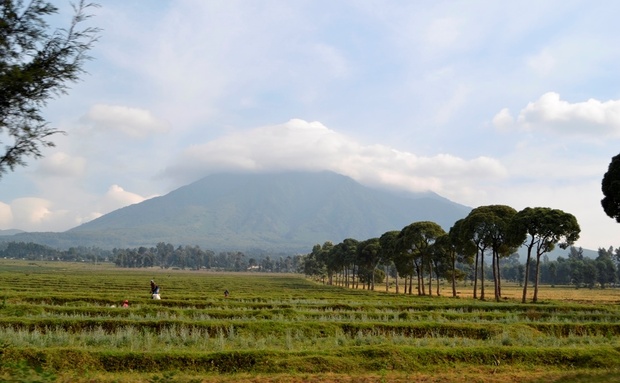 By Esther Koch
I was recently invited by the Rwanda Tourism Board, together with a group of 500 delegates invited from all over the world, to the annual Gorilla baby naming ceremony.  There, I found a beautiful country with so much to offer: Ultimately fell in love with this African country, with its spotless streets, friendly  locals, beautiful hillside landscapes and unique wildlife.
Gorillas are only found in 3 countries on the African continent and Rwanda is one of them. Many people go to Rwanda purely to experience this matchless experience, but find much more than they bargained for. The country is so small you can drive from one side to the other in a day, which makes it very appealing – you can explore more in a shorter amount of time.
Rwanda boasts some of the best tea and coffee plantations in the world and even supplies the coffee mogul, Starbucks. You are treated to beautiful scenes along the roadside, showcasing miles and miles of lush-green tea plantations.
As you make your way through the country, you are met by small villages with friendly faces. Everyone is busy with their daily routines; carting bananas and carrots on bicycles, fetching water from the designated water points, sweeping in front of their houses or selling their own fresh produce. Children usually spot tourists from afar and stand ready with a large smile and frantic waving, while yelling: "Mzungu!" (meaning white person). Schools put emphasis on teaching their children English, which is evident when they greet you with a perfectly spoken: "Good Afternoon".
Rwanda has come a long way since the genocide in 1994 between the Tsutsi and Hutus. Rwandans are more than happy to speak about the genocide, how it affected them and how they have moved on. It is interesting that the perpetrators, after having served their sentence, must return to their village to confess and ask for forgiveness. The villagers must then forgive them and accept them back into the community. Enforced by the President, Paul Kagame, the country has in this manner, managed to find a way to move on and to flourish.
If there is a single most treasured wildlife experience in the world, it has to be the permitted hour spent with the Mountain Gorillas in their natural habitat. The Volcanoes National Park, home to 5 dormant volcanoes, only give out 80 permits per day to visit the 10 Gorilla families living in the park. Accompanied by two guides and a tracker we made our way through thick forest vegetation up and down the Volcano Bisoke for just more than an hour before we found the Umubano gorilla family. Words cannot describe the immensely humbling feeling of locking eyes with a gorilla and then having a feeling of being welcomed in their home. This is not like going on safari and viewing animals from a distance behind an enclosed vehicle. These are wild animals that have merely been habituated. You are completely vulnerable unto their hospitality.  Once you have made eye contact, there is a communication taking place and the gorilla accepts you into their home and allows you to stay. It is an unequalled experience in the wild.
In Kinigi, close to Volcanoes National Park, the gorilla naming ceremony, Kwita Izina, takes place every year. In Rwandan culture, when a baby is born, there is a big feast to celebrate the birth. This ceremony began through this tradition and also to celebrate the successful conservation efforts to expand the gorilla population. It is also an important event that serves to encourage the local people to respect the environment and to help them protect these animals.
Not far from the Volcanoes National Park is Nyungwe Forest, a tropical rainforest located in Southwestern Rwanda, at the border with Burundi. En route the landscape gradually evolves from soft rolling hills dotted with banana trees to dense tangled trees creating a sea of forest from the open plateaus. Colobus Monkeys are usually foraging next to the road or jumping from branch to branch as you wind your way through the forest. Here you can also enjoy a Chimpanzee tracking tour, although a sighting is not always guaranteed. The new canopy tour will take you across a swing bridge 90 meters above the ground, fetching sweeping views of the surrounding forest.
Akagera National Park, which borders Tanzania on the Eastern side, has continued to develop its wildlife offering. Recently seven lions from South Africa's Phinda Private Game Reserve were re-introduced into the park.  In previous years farmers had set traps for the lions that were killing their livestock, and effectively wiped out the lion population. Plans for Rhinos to be introduced to the park are also on the cards.
Rwanda has much to offer anyone who desires to visit. One thing is certain; is it a unique and emotional experience that will not easily leave you.