Kenya East African Explorer
Masai Mara
Serengeti National Park
Lake Manyara
Ngorongoro Crater
Amboseli National Park
Overview
An Africa safari touches something deep within all of us, for it is an experience that will never be forgotten. The following safari combines intriguing cultures, beautiful landscapes and an excellent opportunity for spotting the Big-5. The driver-guides are all very experienced and will certainly make this safari feel special.
Itinerary
Day 1 Nairobi
Upon arrival into Nairobi, you will be met and transferred to the Safari Park Hotel. Afternoon at leisure.
A & B O/N Safari Park Hotel (bed and breakfast basis)
Safari Park Hotel
Situated only 10km from the Nairobi City Centre and 20km from the International Airport, the lively Safari Park Hotel is really an African-theme resort providing deluxe accommodation in 64 acres of beautifully landscaped gardens and indigenous forest. All of the 204 distinctively designed and decorated rooms are airy and contain television, private bathroom facilities and private balconies.

Day 2 Nairobi - Masai Mara National Reserve
Leaving Nairobi after breakfast, you'll travel towards Kenya's fertile highlands and head down the Rift Escarpment on a road built by Italian prisoners of war during World War II. Look for the charming chapel they built at the foot of the escarpment. You'll pass the impressive Longonot earth satellite station as you head across the Valley to Narok, and then travel across acres of wheat and barley, before you reach the Masai Mara and your lodge in time for lunch. There will be an afternoon game drive.
A O/N Mara Simba (full board basis)
B O/N Mara Sopa Lodge (full board basis)
Mara Simba
Mara Simba was conceived, not just as an overnight stop, but as a safari resort and lodge on the edge of the Masai Mara. The emphasis is on exclusivity, comfort and the ambience is Masai, with the decor incorporating both decorative and design elements from the culture of this tribe. The grounds of the lodge extend almost a kilometre along the Talek River, and built in blocks with 4 comfortable rooms in each. The river bank is left in its virgin state, while further back lush landscaped gardens of indigenous plants and trees attract colourful birds and butterflies. Wide, well-lit pathways link guest rooms and the public areas where beautiful wooden floors are shaded by soaring makuti roofs (palm thatch). The dining room and bar have stone fireplaces where roaring fires are lit on chilly evenings.
Mara Sopa Lodge
The lodge is set in the Oloolaimutia Valley and built into the surrounding hillside landscape. The accent around the lodge is on the indigenous Masai people and the fabulous wealth of wildlife, birdlife and natural flora seen in every direction. The lodge is luxuriously appointed with all the mod cons one would expect from a Sopa styled lodge in the bush. The bedrooms are spacious, the large pool has wonderful views and there's evening wildlife films and CNN to enjoy during the down-time. All this ensures that your stay will be blissfully comfortable.
Day 3 Masai Mara National Reserve
After early breakfast clients will depart for a visit to a Masai Village and a morning game drive, returning to the lodge for lunch and a siesta, before setting off for an afternoon game drive. Returning to the lodge at sunset.
A O/N Mara Simba (full board basis)
B O/N Mara Sopa Lodge (full board basis)
Day 4 Masai Mara – Lake Nakuru
Leaving the Masai Mara after breakfast, you'll travel across the 'breadbasket' of Kenya, where acres of wheat and barley litter the landscape as you head north to Narok, the district headquarters of this part of Maasailand. Now travel across the vast plains on the floor of the Rift Valley, keeping an eye out for herds of giraffe and gazelle as you head up the Mau Escarpment, before arriving at Lake Nakuru around midday. The waters here are often coloured shimmering flamingo pink, from thousands of the beautiful birds lining its shores. After lunch, depart for an afternoon game drive in Nakuru National Park.
A & B O/N Lake Nakuru Lodge on a full board basis.
Lake Nakuru Lodge
Lake Nakuru Lodge is situated in the heart of one of Kenya's most densely populated wetland National Parks, (Ramsar site) only two leisurely hours' drive from Nairobi, through beautiful forested uplands and passing a series of lakes. On the outskirts of the bustling market town of Nakuru lies a truly remarkable national park which has achieved international fame. Both black and white rhino are being given a new lease of life in this 188 sq km, fully-fenced park - and they are carefully protected. The present rhino population is over 50 and continuing to multiply. The Rothschilds giraffe is another rarity and the park has its fair share of buffalo, leopard, zebra, eland, waterbuck and lion. Lake Nakuru Lodge is in the south-east ecological niche of the park, with commanding views of the lake and the flamingos for which it is justly famous. Lush gardens surround the lodge and cottages. There is a good programme of activities and evening entertainment.

Day 5 Lake Nakuru - Amboseli National Park
After an early breakfast continue to Lake Nairasha for a boat ride. Later leaving the Rift valley behind, proceed to Nairobi, collect a picnic lunch and then head south towards Amboseli arriving at your lodge late afternoon.
A O/N Ol Tukai Lodge (full board basis)
B O/N Amboseli Sopa Lodge (full board basis)
Ol Tukai Lodge
Ol Tukai Lodge was opened in June 1996 and lies at the heart of Amboseli National Park approximately 266kms due south of Nairobi. The lodge is set at the foot of Mt. Kilimanjaro, the highest mountain in Africa and is probably the best wildlife arenas to view elephants at close range. Most of the park consists of a partially dry, lake bed of evaporated salts and fragile grassland with patches of acacia woodland. Around the swamps the vegetation is lush with yellow barked acacia and phoenix palms. You can see most types of game in the park including rhino, giraffe, gazelle, lion, cheetah and leopards. Birdlife is prolific too, especially around the swamp areas. Cottage style accommodation spreads out on either side of the main lodge. The architecture is unobtrusive with lots of wood, local stone and slate. There are two double rooms especially designed for the disabled and ramps for wheelchairs are the norm. Each room has an uninterrupted view of either the wetlands or Mt. Kilimanjaro, with the occasional dust trail of safari vehicles viewing game in this most beautiful of Kenya's game parks. The crystal clear figure of eight swimming pool, shaded by the occasional acacia tree, has ample sun beds and mattresses available for guest use.
Amboseli Sopa Lodge
Set on 200 acres of private land on the foothills of Africa's highest mountain, Mount Kilimanjaro, the lodge is perfectly poised to provide a luxurious base from which to explore the park and get some great pictures of this incredible mountain. The lodge is also close to where Ernest Hemingway lived whilst writing his famous novel, The Snows of Kilimanjaro. Each of the 47 rooms has their own private veranda on which to relax, sunbathe and take in the views. All rooms are en suite, with walk-in shower, lavatory, wash basin and shaving socket – they're all modern, spacious and comfortable. Meals are a cosmopolitan combination of European, African and Asian dishes, all made with fresh produce and served from a colourful buffet. There are also several bars, a great pool, TV lounge and many other small niceties that make this a superb location.

Day 6 Amboseli National Park
Depart the lodge after a sumptuous breakfast for a full day game drive, enjoy a hot picnic lunch at a picnic site, returning to the hotel at 16h00.
A O/N Ol Tukai Lodge (full board basis)
B O/N Amboseli Sopa Lodge (full board basis)

Day 7 Amboseli - Lake Manyara
After breakfast, you continue the journey to the Tanzania border post and then on to Arusha for lunch. Afternoon (approx 1400 hrs) pick up from Arusha Town Centre and join seat in vehicle safari (using Serena Lodges). You depart Arusha and pass through the Masai Steppe filled with many picturesque African villages as well as maize, coffee and banana plantations. At the town of Makuyuni you turn North West and continue the journey up through a scenic escarpment that brings you to your lodge, perched on the edge of the Rift Valley with stunning views over the distant Lake Manyara.
A & B O/N Lake Manyara Serena (full board basis)
Lake Manyara Serena Lodge
Grouped around a central 'vanishing horizon' pool, this highly unusual lodge features a simple timbered reception area, built in traditional African style, which is accessed via a bridge over a small stream. Beyond reception, lies the central dining room, bar and veranda, below which lies the pool. Perched on the very edge of the cliffs, with stunning views over the lake is the pool bar and observation point. Dotted around the grounds, all with views over the lake, are a series of circular two-storey 'rondavels', which house the rooms.
Day 8 Lake Manyara – Serengeti National Park
After breakfast there is a game drive in Lake Manyara National Park that returns to the lodge for lunch. Leaving Lake Manyara behind, the journey continues North West across the stunning hilly countryside of the highlands which is filled with wheat and coffee plantations, and then into the Ngorongoro Conservation Area. From here lie the vast plains of the Serengeti, where you'll hopefully start spotting game well before you get into the park.
A O/N Serengeti Serena Lodge (full board basis)
B O/N Serengeti Sopa Lodge (full board basis)
Serengeti Serena Lodge
Centrally located adjacent to the famous Western Corridor and Grumeti River, the lodge has been designed to blend completely into the living landscape. A series of traditional domed 'rondavels' are widely spaced throughout the grounds, which are cooled by groves of acacia trees and watered by sparkling streams. On the very edge of the ridge is a 'vanishing horizon' pool, which looks out over the 'endless plains' after which the Serengeti is named.
Serengeti Sopa Lodge
The Serengeti Sopa lodge is located in the Nyarboro Hills in the south west of the Serengeti National Park and is the only tourism development in this section of the park. Year round water and the acacia woodland in this area create an ideal environment for the wide variety of wildlife seen in the immediate vicinity of the lodge. Looking out over the seemingly endless Serengeti plains, this hill side lodge is a tranquil oasis set in thousands of square kilometres of Serengeti National Park. The lodge can accommodate around 170 guests in 79 suites, each enjoying wall-to-wall carpeting, a private lounge with a mini bar, a bedroom with two queen size beds and ample room for a third guest. Each has a private veranda which offers stunning views over the plains. As the sun sets, you may enjoy sundowner cocktails by the pool, and in the evening, after a 4-course dinner, traditional dancers entertain guests. Slide presentations are also held daily by resident naturalists.
Day 9 Serengeti National Park
Morning and afternoon game drives in Serengeti National Park.
A O/N Serengeti Serena Lodge (full board basis)
B O/N Serengeti Sopa Lodge (full board basis)
Day 10 Serengeti National Park - Ngorongoro Crater
After breakfast you depart for Ngorongoro with a picnic lunch viewing game across the vast Serengeti plains, after a picnic lunch you continue towards the crater with a visit to a masai village. Late afternoon continue to your lodge, set high on the rim of
Ngorongoro Crater for dinner.
A O/N Ngorongoro Serena Lodge (full board basis)
B O/N Ngorongoro Sopa Lodge (full board basis)
Ngorongoro Serena Lodge
Hugging the contours of the jagged Crater rim, the lodge takes its inspiration from the so-called 'Cradle of Mankind', the prehistoric site of Olduvai Gorge, which lies close by. Linked by arched stone passages and timbered decks, its walls are decorated with stylized prehistoric cave paintings and lit by flaring torches. At the stone heart of the lodge burns a glowing fire, which is kept constantly alight. Decorated with cave paintings, the rooms are strung around the Crater rim. Each has its own rock- enclosed balcony, and all enjoy completely uninterrupted views of the volcanic amphitheatre far below.
Ngorongoro Sopa Lodge
The lodge is located on Lemala Hill on the uppermost eastern rim of the Ngorongoro Crater, making this the only tourist development on the eastern rim of the crater. The views into the crater floor from here are spectacular and sunsets magnificent. Another major advantage here is that guests can enjoy a safari begins within five minutes of leaving the lodge, as the park gate is very close. The lodge is tastefully decorated, spacious and all the bedrooms are modern, comfortable and equipped with everything one would expect from a hotel of this class. With an altitude of 2,375 metres, the lodge experiences cool and even cold weather, especially during the winter months of June and July when temperatures can get as low as 10' C. However, guests enjoy sunshine during most of the year and must take care when sunbathing by the pool due to the altitude. The food and service here is stylish with meals being a massif collection of delicious international and Tanzanian dishes.

Day 13 Tarangire National Park - Nairobi
Depart Tarangire after breakfast and drive back to Arusha arriving in time for lunch. After lunch you continue the journey by road to Nairobi and onto a Nairobi City Centre Restaurant for Dinner before drop off at JKIA airport or City centre Hotel.
The tour ends at 19h00 (onwards flight to be booked after 23h00, or clients need to overnight in Nairobi.
Day 11 Ngorongoro Crater
A highlight awaits you this morning as you depart to explore what is commonly referred to as the World's largest wildlife zoo. After breakfast, you descend with a picnic lunch through the early morning mists and 2,000 feet into the crater. Ngorongoro Crater is the World's largest intact volcanic caldera. Due to its size and diversity, the crater floor is comprised of several distinct areas, ranging from forest, swamps, lakes and springs, to open grassland and some sandy dunes. It's an awesome wildlife experience. You return to the lodge in the late afternoon.
A O/N Ngorongoro Serena Lodge (full board basis)
B O/N Ngorongoro Sopa Lodge (full board basis)
Day 12 Ngorongoro Crater - Tarangire National Park
Departing Ngorongoro Crater after breakfast and head south east en route to Lake Manyara, Mto wa Mbu village and Tarangire beyond. Through the highlands and the Karatu district, you'll view the scenic wheat plains and coffee plantations here before journeying down the spectacular escarpment where you turn south on to the main Arusha – Dodoma road and into the park. From here to the lodge, you'll enjoy a game drive en route. After lunch and perhaps a swim, the remainder of the afternoon will be spent on a game drive.
A & B O/N Tarangire Sopa Lodge (full board basis)
Tarangire Sopa Lodge
Hidden among the kopjes of Tarangire National Park lies Tarangire Sopa Lodge. The lodge is surrounded by ancient baobab trees. Tarangire National Park is the home of one of the greatest concentration of elephants in Africa, and other game including the elusive leopard. Over 400 bird species can be spotted here as well. With water constantly available in the area, the greenery is lush providing a wonderful contrast to the burnt ground.

Dates
This itinerary can be done throughout the year. If you are interested in following the migration, the best time to visit the Masai Mara (Kenya) is in September, or the Serengeti (Tanzania) in December - June for this Itinerary.
Days of Operation:
A Sundays
B Saturday, Monday and Thursday
Rates
Rates available on request.
Included
Meet and greet services with assistance 
All airport transfers will be in a safari cruiser
All transport and game drives on road safaris will be in a safari minibus in Kenya (with seven window seats) and 4x4 vehicle in Tanzania (with seven window seats) with an English speaking driver-guide on shared basis
Meals and accommodation as specified
All park fees and government taxes
½ litre bottle mineral water per person per day on game drives
Excluded
Visas
International flights and Airport taxes
Driver-guide gratuities
Drinks
Dining rooms tips 
Porterage
Personal travel, baggage and medical insurance
Telephone bill, laundry and any items of a personal nature
Supplement for travel over Easter & Christmas season
Additional remarks
We may have to re-route the itinerary or accommodate in similar lodges in case of non-availability.
Prices for domestic flights, airport taxes or park fees may be changed without prior notice. This is beyond our control and any increase levied will be passed to you.
In order to qualify for the low season rates, the tour must start and finish within the specified dates. If any safari starts in low season and ends in high season, we will pro rata the cost accordingly.
Kenyan Vat is charged based on current information. Should government change teh Vat bill we will have to adjust our costs.
Tanzanian government is going to implement Vat charges as from 1 July. This will affect costs.
Passenger Information
Passengers should bring only soft sided bags on safaris.
Passengers arriving to Kenya or Tanzania may be asked to present a valid Yellow Fever Vaccination Certificate
Travellers' cheques generally are not accepted in East Africa. US bank notes cannot be older than 2004 and must have the most current security markings (large portrait of the presidents).
Malaria Risk area.
The Kenyan Consulate requires SA passport holders to have a visa for entry from 1 September 2014.
Gear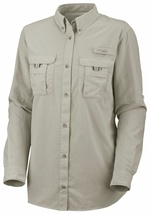 Lightweight, durable nylon dries fast should you get splashed; mesh-lined cape vents at the back shoulder enhance airflow to keep you cool in the hottest conditions. Built-in UV protection keeps the sun off your back so you can stay out until you're ready to come in. Two big chest pockets offer plenty of room for small gear; long sleeves can be rolled up and secured with button tabs.
Available colours:Khaki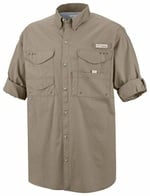 Constructed of cotton poplin that's garment washed for lived-in comfort, it features hook and loop closed fly box pockets at the chest, a tool holder and utility loop and a rod holder loop left chest that frees up your hands to work with lines and lures. Mesh-lined cape vents at the back shoulder keep you cool and comfortable; hook and loop at the collar tip lets you turn the collar up to keep the sun off your neck.
FEATURES:
Fabric: 100% cotton poplin
Vented
Imported
Available colours:Khaki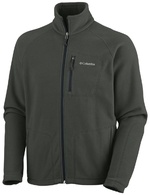 The 270g microfleece washes like a dream, so no worries if your loudmouth catcher sloshes part of his porter on your arm while he re-lives a big play. An internal zip-pocket keeps your wallet and other valuables secure. Zip-up and head out.
FEATURES:
Fabric: 100% polyester microfleece
Zip-closed security pocket
Center back length: 28
Imported