Climbing Mount Kenya
Mt. Kenya is an ancient volcanic mountain much older than Mt. Kilimanjaro. It's believed to have once reached well above 600m. What is left today is volcanic plug which erosion has fashioned into the complex jagged outline of the central peaks.
Overview
Mount Kenya is the second highest peak in Africa and stands somewhat unjustly in the shadow of it's taller neighbour Kilimanjaro, which lies some 320 km away in the south and is visible on a clear day. Kili may see much more traffic - due to the possibility of summiting via several non-technical trekking routes and due to the sometimes dubious honour of being one of the Seven Summits - but Mount Kenya offers a wealth of excellent and diverse climbing possibilities on rock, snow and ice. 
Itinerary
Day 1
Arrive at Jomo Kenyatta Airport in Nairobi
O/N Nairobi (BB)
Day 2
Morning departure from Nairobi and drive to the lodge.
O/N Naro Moru (full board)

Day 3
Drive to Sirimon Park Gate and continue to the road head at 3 300 metres.
Afternoon hike for acclimatisation.
End at Judmeier Camp for overnight. (full board)

Day 4
Ascend to 3 990 metres
O/N Likii Camp (full board)
Day 5
Ascend to 4 300 metres
O/N Shipton's Camp (full board)
Day 6
Summit 4 985 metres and then descend to 4150 metres.
O/N Mackinder's Camp (full board)
Day 7
Descend to the Met Station road head and transfer to the lodge to celebrate your achievement.
O/N Naro Moru (BB)

Day 8
Drive back to Nairobi and transfer to your onward arrangements.
Rates
Rates available on request.
Gear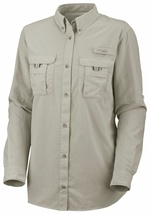 Lightweight, durable nylon dries fast should you get splashed; mesh-lined cape vents at the back shoulder enhance airflow to keep you cool in the hottest conditions. Built-in UV protection keeps the sun off your back so you can stay out until you're ready to come in. Two big chest pockets offer plenty of room for small gear; long sleeves can be rolled up and secured with button tabs.
Available colours:Khaki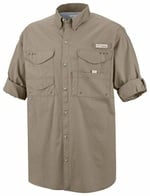 Constructed of cotton poplin that's garment washed for lived-in comfort, it features hook and loop closed fly box pockets at the chest, a tool holder and utility loop and a rod holder loop left chest that frees up your hands to work with lines and lures. Mesh-lined cape vents at the back shoulder keep you cool and comfortable; hook and loop at the collar tip lets you turn the collar up to keep the sun off your neck.
FEATURES:
Fabric: 100% cotton poplin
Vented
Imported
Available colours:Khaki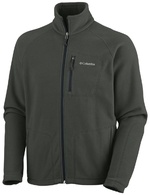 The 270g microfleece washes like a dream, so no worries if your loudmouth catcher sloshes part of his porter on your arm while he re-lives a big play. An internal zip-pocket keeps your wallet and other valuables secure. Zip-up and head out.
FEATURES:
Fabric: 100% polyester microfleece
Zip-closed security pocket
Center back length: 28
Imported