Scenic Scandinavia and The Northern Lights
Stockholm's Old Town & Vasa Museum
Reindeer Encounter and Sámi Cultural Visit
Sled Dog Expedition
Sweden's ICEHOTEL
Tromsø guided Northern Lights excursion
Guided walking tour of Bryggen
Bergen Fjord Cruise
Overview
Live the Journey combines two Scandinavian icons, namely Sweden and Norway, on this winter adventure of a lifetime. 
Your tour starts in Stockholm with a guided walking tour of Gamla Stan (old town) and a visit to the Vasa-museum. This museum displays the only almost fully intact 17th century ship that has ever been salvaged.
From here you board our overnight train to Kiruna for an inter-active experience, meeting the local Sámi and a unique reindeer encounter. The world-famous ICEHOTEL is next, with a once-in-a-lifetime dog-sledding adventure.
Board the scenic Arctic Circle train to Tromsø, hailed as the best place in the world to witness the Northern Lights.
Your tour ends with a visit to ultra-scenic Bergen, the gateway to Norway's world-famous fjords, where highlights include the Fløibanen Funicular, offering extraordinary views over this idyllic town, and a romantic fjord cruise, taking in the natural beauty, from a different point of view.
Itinerary
DAY 0: JOHANNESBURG/ CAPE TOWN - STOCKHOLM
Evening departure from Johannesburg or Cape Town to Stockholm in Sweden.
DAY 1: STOCKHOLM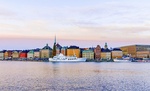 Welcome to Sweden! Upon arrival at the Arlanda International Airport, you will be met and transferred to your hotel.
Overnight at the Clarion Amaranten or similar including breakfast.
DAY 2: STOCKHOLM SIGHTSEEING - KIRUNA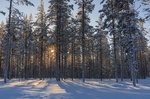 This morning you will be met by your English-speaking guide and driver for a city sightseeing tour of Stockholm, including a visit to the Vasa museum. The Vasa is the only preserved seventeenth-century ship in the world and a unique art treasure. More than 95 percent of the ship is original, and it is decorated with hundreds of carved sculptures. The 69-meter-long warship Vasa sank on its maiden voyage in the middle of Stockholm in 1628 and was salvaged 333 years later in 1961. For nearly half a century the ship has been slowly, deliberately and painstakingly restored to a state approaching its original glory.
Enjoy lunch in a restaurant in the old town (own account), before enjoying a guided walking tour of Gamla Stan. The bustling, compact island of Gamla Stan is the city's old town, with cobbled streets and colourful 17th- and 18th-century buildings. It's home to the medieval Storkyrkan cathedral and the Royal Palace, the king's official residence.
Return to the hotel to collect your luggage before being transferred to the train station for your overnight train to Kiruna, situated in Swedish Lapland.
Overnight onboard overnight train.
DAY 3: KIRUNA – REINDEER ENCOUNTER & SÁMI CULTURE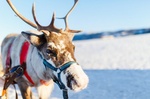 This morning the train arrives in Kiruna, Sweden's northernmost city, located in the Arctic Circle. Upon arrival at the train station, you are transferred to Camp Ripan and onwards to the departure point for your afternoon tour.
The Sami are one of the world's indigenous peoples and have lived in Sápmi since time immemorial, a region that today stretches from the Kola Peninsula in Russia, over the northern regions from Finland to Norway, and into Sweden. Kiruna is a part of Sápmi and has been home for many generations of Sami and today you will meet them and their trusted reindeer.
Travel in a snowmobile-drawn sled from Jukkasjärvi out to the reindeer camp in the forest where they keep and fodder part of their reindeer herd during winter to help them survive hard grazing conditions due to climate change. There are adult reindeer, youngsters and from around mid-December also calves that will eat out of hand. The reindeer is one of the Sámi society's most important culture bearers and resources. You learn how today's reindeer husbandry works. The reindeer herder will show you the art of lassoing and reindeer-sledding.
Later you are invited into a lávvu, i.e. Sámi tent, where you will sit on reindeer skins around a warming fire whilst learning more about the indigenous people of Fennoscandia, the Sámi people's culture, history and way of life. For lunch you will be served suovas, the Sámi signature dish, which is eaten like a wrap and tastes best with hot, steeped coffee sipped from a guksi, a drinking cup carved from birch burl. On the way back you will stop at the handicraft shop at Márkanbáiki where you can have a look at a range of traditional and modern local Sámi arts and crafts.
Overnight at Camp Ripan or similar including light breakfast and traditional lunch.
DAY 4: KIRUNA – ICE HOTEL & GUIDED SLED DOG TOUR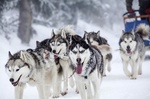 Enjoy breakfast this morning before check-out and transferring to the ICEHOTEL. Leave your luggage and proceed to the meeting point for your guided sled dog tour.
Come along as a passenger on this tour and experience the energy from the sled dogs and the beautiful snowy landscape on a mini-expedition into the wilderness. The snowy plains give you a feeling of freedom and the energy from the eager sled dogs fills the air. You will stop half-way at a wilderness cabin to enjoy a traditional lunch.
Your tour ends back at the ICEHOTEL where you will have some time at leisure.
Overnight at the ICEHOTEL or similar including breakfast and traditional lunch.*
*Accommodation at the ICEHOTEL is booked in a Kaamos Room (normal hotel room), guests wanting to stay in an Ice Room can upgrade at an additional cost and subject to availability. Ice Rooms do not have an en-suite bathroom and the temperature in the room is -5 degrees.
DAY 5: ICE HOTEL – NARVIK – TROMSØ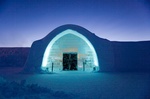 This morning after breakfast you transfer from the hotel to the train station and board your train to Narvik. The 3-hour trip from Kiruna to Narvik, just across the Norwegian border, is one of northern Sweden's most beautiful journeys. The route offers top-class views of Lapland's wild scenery and gives you fleeting glimpses of some of the country's highest peaks. Snacks and beverages are available for sale on-board the train (not included).
Upon arrival in Narvik you will be met for your private road transfer to Tromsø (approximately 3-hour drive, through incredibly scenic landscapes).
Tromsø, a city in northern Norway, is a major cultural hub above the Arctic Circle. It's famed as a viewing point for the colourful Northern Lights that light up the night-time sky during certain times of the year. The city's historic centre, on the island of Tromsø, is distinguished by its centuries-old wooden houses. The 1965 Arctic Cathedral, with its distinctive peaked roof and soaring stained-glass windows, dominates the skyline.
Overnight at the Clarion Hotel Aurora or similar including breakfast.
DAY 6: TROMSØ – NORTHERN LIGHTS EXCURSION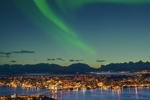 Enjoy breakfast this morning before setting off on a morning sightseeing tour of Tromsø. Your tour includes a visit to the Polaria with its intriguing design. Resembling slabs of iceberg tumbling up against the shoreline, Polaria sits on the Tromsø quayside a short walk from the cruise port. It is built in similar style to the Arctic Cathedral, which sits across the water on the mainland in Tromsdalen. Polaria is the brainchild of Norwegian architectural practice JAF and opened in 1998 as the first aquarium within the Arctic Circle. Aimed largely at educating folks on life in high-north Norway, the centre has interactive exhibits and informative displays highlighting the effects of global warming on the Arctic ice cap. The aquarium specializes in fish found in northern latitudes, including char, salmon, vast snow crabs and bearded seals.
Enjoy time at leisure this afternoon.
A light dinner-buffet is served at your hotel before you head out this evening on a hunt for the Northern Lights.
Tromsø is located in the middle of the Northern Lights Oval – the ring that circles the Magnetic North Pole – which is the area with the highest probability of seeing the lights. This natural phenomenon can be observed from September to April, depending on the weather conditions and solar activity. If the sky is clear, you might be able to see the Northern Lights right above the city, but to increase our chances we will go on a tour away from the bright lights of the city centre. Your expert guide will find the best area for a viewing and on the road will educate us on the scientific facts of the Aurora Borealis, but even more interesting, we'll get to hear about the folklore and myths that has been associated with this phenomenon for centuries. He will also provide guidance on how to adjust your camera settings to take the best pictures of this natural phenomenon.
Overnight at the Clarion Hotel Aurora or similar including breakfast and light dinner-buffet
DAY 7: TROMSØ – BERGEN SIGHTSEEING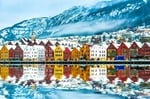 After an early/ packed breakfast and check-out, use the scheduled airport express transfer to the airport to be in time for your flight to Bergen. (Internal flight not included)
Upon arrival at Bergen Airport you will be welcomed and transferred to the centrally located hotel.
Later, enjoy a guided walking tour of the harbour.
Overnight at the Radisson Blu Royal Hotel or similar including packed breakfast.
DAY 8: BERGEN – FLØIBANEN FUNICULAR & FJORD CRUISE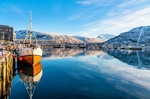 Today it is all about mountains and fjords. This morning continue your guided sightseeing of Bergen on foot, including a round trip on the Fløibanen Mountain Train to the top of Mount Fløyen. The funicular railway is one of Norway's most famous attractions. The trip starts from the city centre, just 150 metres from the Fish Market and Bryggen. The exciting trip up to the mountain is a magnificent experience in itself. From Mount Fløyen, approx. 320 metres above sea level, you can enjoy the beautiful view, study the cityscape in detail and the seaward approaches and fjords surrounding Bergen.
This afternoon you depart on a Rødne Fjord Cruise to Mostraumen. This fantastic tour takes you up the 27-kilometer long Osterfjord. Enjoy spectacular fjord scenery and as the fjord narrows between steep mountains, marvel at the skill of the captain as he brings you safely through the powerful currents of the shallow and narrow Mostraumen strait. The boat sails with its bow right up to a waterfall to catch a bucket of ice-cold mountain water for you to sample before turning back and returning to Bergen through the magnificent landscape. The modern, comfortable boat have kiosks offering refreshments for sale, including snacks, beer and wine.
Overnight at the Radisson Blu Royal Hotel or similar including packed breakfast.
DAY 9: DEPARTURE
Sadly, today marks the end of your incredible journey. After breakfast and hotel check-out, transfer to the airport for your onward departure flight.
Including breakfast (may be a packed breakfast, depending on flight departure time)
END OF SERVICE
Dates
Rates
Available on request, subject to your chosen dates
Included
Meet and greet upon arrival
Services of qualified English-speaking local guides for activities
All transfers in an air-conditioned vehicle
Train journey from Stockholm to Kiruna
Train journey from Kiruna to Narvik
All accommodation as indicated, with breakfast daily
All sightseeing and excursions as specified including:
Stockholm sightseeing including Vasa Museum and guided walking tour of the old town
Reindeer Encounter and Sámi Cultural Visit
Sled Dog Expedition
Complimentary guided tour of ICEHOTEL
Tromsø sightseeing including Polaria
Tromsø guided Northern Lights excursion
Bergen sightseeing with guided walking tour of Bryggen
Fløibanen Mountain Funicular and Rødne Fjord Cruise to Mostraumen
Excluded
All international and internal flights and airport taxes (quoted separately)
Visa Fees
All meals not specified
Driver, guide and local escort gratuities
Drinks, telephone bill, laundry and any items of a personal nature
Comprehensive travel insurance
Upgrade to an "cold room" at ICEHOTEL, subject to availability
Reservations
Fill out the form below to request a full itinerary.