Oberammergau Passion Play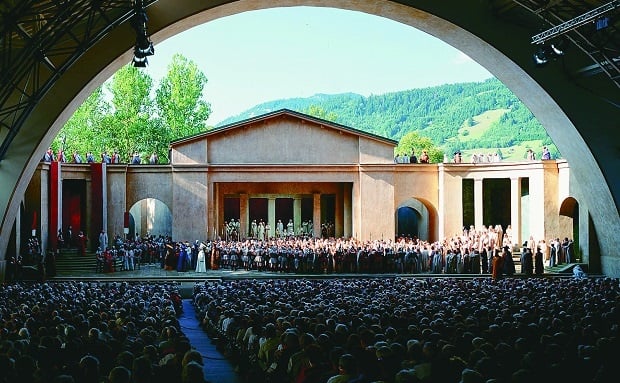 Oberammergau is a charming village set in the mountains of Bavaria, Germany. This picturesque village with its delightful traditional buildings is famous worldwide for its re-enactment of the Passion of Christ, known as the "Passion Play". It is the world's largest amateur dramatic performance.
In 1633 in the middle of the Thirty Years War, the villagers of Oberammergau in Southern Germany, after months of suffering and death from the plague, vowed to put on the 'Play of the Suffering, Death and Resurrection of Our Lord Jesus Christ' every ten years. At Pentecost 1634, they fulfilled their pledge.
The famous Oberammergau Passion Play is due to be performed again in 2020 with an estimated 500,000 visitors expected. A tradition, maintained and experienced almost without interruption for over 380 years, will be continued for the 42nd time.
All actors come from the village, since a special play law is in effect. All participants, from actors playing the big speaking parts such as Jesus, Mary or Judas, through to members of the choir, orchestra members, firemen and ushers, must have been born in Oberammergau or lived there for at least 20 years.
Despite the fact that the play is in German, it attracts audiences from all over the world, both religious and secular, who come to Oberammergau to experience the drama and the charismatic way the town comes together to perform the play.
Join Live the Journey from 12 August to 27 August 2020, as we experience this extraordinary event in conjunction with an exclusive guided tour featuring Eastern European highlights including Munich, Vienna, Budapest, Krakow, Warsaw, Berlin and Prague.